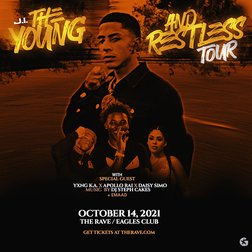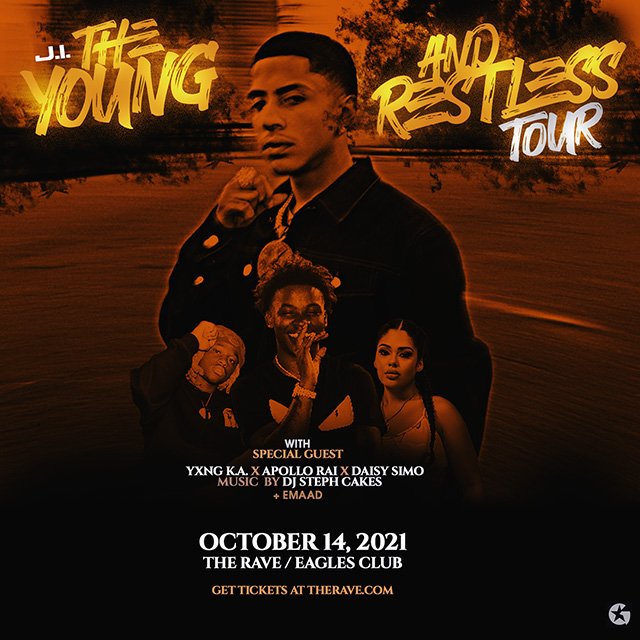 Date
Thursday 14 October 2021
Location
The Rave / Eagles Club
2401 West Wisconsin Avenue, Milwaukee, 53233, United States
Web: http://therave.com
Description
Young And Restless Tour
J.I.
with Yxng K.A., Apollo Rai, Daisy Simo, DJ Steph Cakes, EMAAD
Thursday, October 14, 2021 at 8pm
The Rave/Eagles Club
2401 W. Wisconsin Avenue
Milwaukee WI 53233 USA
All Ages
Advance tickets start at $25.00
Advance tickets start at $25.00
(opening acts subject to change without notice)
Born Justin Irvin Rivera to a family of Puerto Rican descent, Brooklyn-native, J.I. got his start freestyling with his brothers at the age of 11. Within a few years he began posting his freestyles on Instagram, and soon caught the attention of legendary rapper/producer/executive Jermaine Dupri. Naming iconic artists like Tupac Shakur, Big Pun and DMX among his influences, he dropped his debut single "No Static" in 2016.
By the end of that year, the then-15-year-old had garnered more than 500,000 views on his YouTube channel, which now boasts over 392 million views and 1.12 million subscribers. Now 19-years-old, the rising rapper is known for his melodic flow, infectious charisma, and powerfully honest lyrics – last year he released 3 mixtapes, Hood Life Krisis Vol. 1, which features his hit track, "Need Me," (now at over 182 million streams, has gone platinum), Hood Life Krisis Vol. 2, which features "Love Scars" (now at over 42 million streams), and Hood Life Krisis Vol. 3 EP, which features "Letter 2 U" (now at over 22 million streams). HLK1 and HLK2 both went on to land on Billboard's Heatseekers chart and all three projects have garnered recognition from XXL, Genius, Billboard and more.
His music won over artists such as Jadakiss, Cardi B, and Drake, who recently sang along to his track "Used To" on Instagram Live. J.I also went on his first headline tour in support of both projects. He hit major markets including Boston, LA, and Chicago, and became the first artist ever to sell out 3 consecutive nights at New York's legendary venue, SOB's. His single "Proud of Me" led Billboard to recognize that his talent will "forge an unshakable bond that can withstand the test of time" and DJ Booth to distinguish him as "another reminder the five boroughs cannot be defeated in sound ingenuity."
Purchase tickets at http://etix.therave.com/ji, charge by phone at 414-342-7283, or visit our box office at 2401 W. Wisconsin Avenue in Milwaukee. Box office and charge by phone hours are Mon-Sat 10am-6pm (open later on show nights).
Don't buy from 3rd party sites. Only buy tickets from TheRave.com, eTix.com, or links provided by The Rave or official band sites.
Don't want to see ads? Upgrade Now