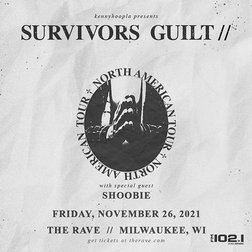 Date
Friday 26 November 2021 at 8:00pm
Location
The Rave / Eagles Club
2401 West Wisconsin Avenue, Milwaukee, 53233, United States
Web: http://therave.com
Description
FM 102/1 presents
KENNYHOOPLA
with Shoobie
Friday, November 26, 2021 at 8pm
The Rave/Eagles Club
2401 W. Wisconsin Avenue
Milwaukee WI 53233 USA
All Ages
Advance tickets start at $20.00
(opening acts subject to change without notice)
Born in Cleveland and currently based in Wisconsin, KennyHoopla is one of the most exciting rising artists in the alternative space today. HYPEBEAST proclaimed that he is "undoubtedly one of the most important indie up-and-comers in the United States right now." Last year, he released how will i rest in peace if I'm buried by a highway?// EP, with the title track landing in the Top 10 at Alternative Radio with adds across major markets and SiriusXM's Alt Nation. To date, KennyHoopla has been critically praised by tastemakers such as Fader, Complex, Pigeons & Planes, Consequence of Sound, NME and more.
Most recently, KennyHoopla released "ESTELLA//," a collaboration with iconic musician Travis Barker. The track marked Kenny's second song to land in the Top 10 at Alternative Radio. He is currently in the studio with Barker working on his next project and will begin to release new music this spring. He was featured as VEVO DISCVR Artists To Watch 2021 and was selected to be a part of #YouTubeBlack Voices Class of 2021.
Purchase tickets at http://etix.therave.com/Hoopla, charge by phone at 414-342-7283, or visit our box office at 2401 W. Wisconsin Avenue in Milwaukee. Box office and charge by phone hours are Mon-Sat 10am-6pm (open later on show nights).
Don't buy from 3rd party sites. Only buy tickets from TheRave.com, eTix.com, or links provided by The Rave or official band sites.
Don't want to see ads? Upgrade Now